5 Reasons To Use Slide Labels Over Direct Printing On Slides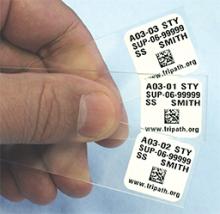 The days of histology labs handwriting patient, case and block information on slides are over.  For labs that want to implement barcode technology to positively identify slides as they are created and track the slides through staining, checkout and archiving, they face a choice between two different technologies: printing directly on the slide itself, or printing a label and affixing the label to the slide.
In this blog post we examine 5 reasons why using slide labels like our StainerShield XT slide labels is a better alternative for labs over direct slide printing technology.  We also incorporate the comments of Tim Morken, Pathology Site Manager at UCSF Medical Center – Parnassus, regarding his experiences as the project lead for implementing barcoding in his lab, and his findings when evaluating slide labels vs. direct slide printing.
1. Cost
In order to have an effective barcode tracking system, labs need to label their slides at the microtome station, using case and block information scanned off the barcoded cassette.  This means having a slide printer at every microtome station.  The cost of direct slide printers is in the thousands of dollars, while a compact desktop label printer is under $1,000.  Multiply that by the number of microtome stations in your lab, and difference can be very significant.
Says Tim Morken: "Originally we thought we would use direct printing on slides and thought that would be the way to go for simplicity. However, the expense of the direct slide printers made us move to labels - we wanted a printer at each of 11 microtomes."
2. Ability To Accommodate Several Types of Slides
Direct slide printing works best when your lab only uses one type of slide.  Needing another type of slide means having to take the old slides out of the printer and put the new slides in.  With labels, you are printing labels, not slides.  StainerShield XT slide labels can be applied to and used with practically any type of slide.
Tim Morken: "We use several types of slides, so with labels that is easy to accommodate. With direct slide printers you need to change slides in the printer – very cumbersome."
3. Output Capacity
Direct slide printer output usually holds about 5 slides.  With a slide label printer, a roll of labels usually contains up to 1800 labels.  Labels are more efficient as any size output can be printed, as well as less time is spent reloading the printer.
Continues Tim Morken: "We also saw that the direct printers did not have very large output capacity. We often print 10 or more labels per block, which is easy with a label printer."
4. Ease Of Reprinting
With direct slide printing, re-labeling a slide can be a problem – especially when the tissue has already been mounted on the slide.  With slide labels, its not an issue.  Simply print another label and place it on the slide.
Tim Morken: "The most basic reason is reprinting labels if one is damaged – direct print does get damaged occasionally, so what do you do if there is already tissue on the slide? Print a label."
5. Workflow Flexibility
The use of slide labels enables labs to have much more flexibility in their workflow and how they are able to handle and process different requests, orders and tests. 
Tim Morken: "We print labels for all our unstained slides (all tracked with barcodes), then when a stain order is placed on an exact unstained slide, we simply print a new stain label to go over it. We also use pre-mounted controls for many of our immuno tests. We could not put those through a direct slide printer. We do use direct slide printing for the bare control slides, mount the control tissue and then after the case tissue is mounted we put a stain label over that print – you can't do that with direct slide printing for case tissue on the same slide."
Want to learn more about slide labeling with StainerShield XT slide labels? Visit the StainerShield XT slide labels page, or contact General Data at 1-844-643-1129, or use the webform by clicking "Contact Us" in the top menubar.