Dan Niehaus' Retirement: A Celebration of 20 Years of Service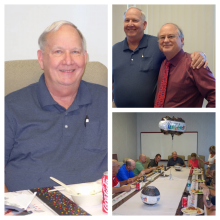 (click to enlarge)
Today we celebrated the retirement of our beloved Systems Specialist, Dan Niehaus, after 20 years of dedication, hard work and loyalty. We are deeply grateful for all that Dan did for General Data and our customers. He has had a major impact in the success of the company over the decades. I think I speak for everyone when I say that Dan's sense of humor and wit will be greatly missed.
We are eager to hear stories of Dan's upcoming adventures and hope you'll join us in wishing him all the best in this next journey!
Happy Retirement, Dan!