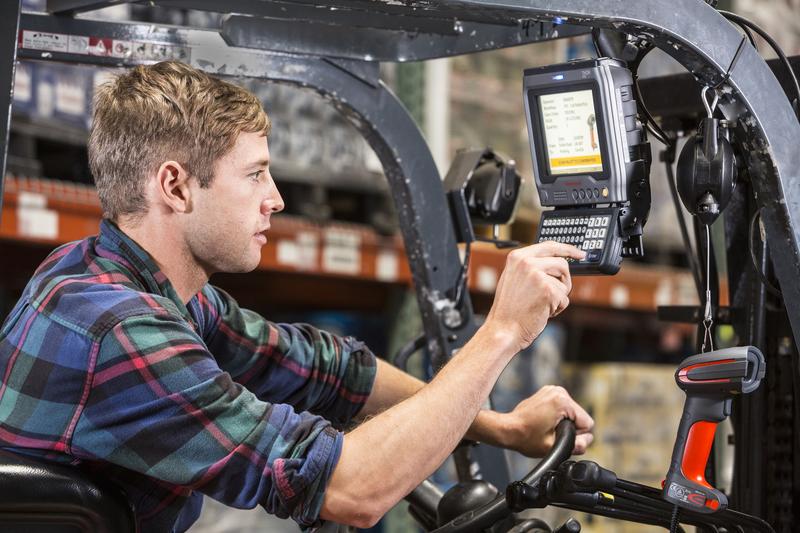 Throughout the supply chain, forklifts have transformed from material-handling vehicles into information-technology platforms that leverage computers, barcode scanners, printers, RFID, voice and software to optimize complex workflows. Vehicle mounted computing and data collection is a proven best practice for improving workflows that offers significant performance benefits. Our team at General Data is here to provide educated, professional guidance to help you choose the right integrated technologies and solutions purpose built for the unique needs of your forklift operators.
Vehicle-Performance Solution
Powerful analytics platforms improve workflow performance by delivering actionable insights which enable you to optimize your use of material-handling trucks, thus reducing your operating costs and improving compliance. Greater driver awareness and transparency also increase worker safety and reduce inventory damage.
Vehicle-Mount Computers
Vehicle mount computers are purpose-built to drive productivity across a wide range of applications in the toughest distribution center environments, manufacturing facilities and freight operations. With diverse options in size and function, including features such as Wi-Fi, Bluetooth wireless technology, voice technology and RFID, there is a vehicle-mount computer optimized for any material-handling workflow.
Rugged Handheld Computers
Mobile computers improve your workflows with advanced data collection, real-time communication, extended battery life and industrial strength hardware. Thanks to near/far imagers that read 1D and 2D barcodes from 50 feet, forklift operators can fulfill pick-and-run workflows more efficiently in any environment. Wide ranges of vehicle mount and snap-on accessories ensure versatility. 
Industrial Handheld Barcode Scanners
Built for long-term durability, industrial grade barcode scanners ensure superior durability and reliability, no matter the environment. From tough applications in harsh locales to high volume scanning in fast paced settings, scanners optimize critical data collection workflows. And your operators can easily scan pallets from long distances without leaving their forklift, thanks to the same extra-long-range imagers used in our mobile computers.
Rugged Mobile Printers
Compact, lightweight and rugged: mobile printers deliver high-speed performance and agility for labeling workflows in any industrial environment or application. Mobile printers integrate seamlessly with most mobile computers, software and other data collection technologies for a complete forklift solution.
RFID Readers and Antennas
Gain real-time visibility, improve asset utilization and increase your workflow flexibility with RFID technology built specifically for the unique demands of forklifts and the DC. This is the most accurate method for rapidly identifying tag motion and relative position. 
Benefits of Taking Your Forklift Into High Gear
Drive workflow productivity with automatic tracking of vehicle location and status. 
Reduce material-handling costs while improving compliance and safety with better operational efficiency. 
Optimize order fulfillment rates and inventory accuracy with real time tracking.
Prevent misshipments by automatically verifying pallet ID and dock-door location.
Streamline operations while reducing labor costs and capital expenses by integrating your technologies into seamless solutions.
We understand and expect that you may have questions about which devices make the most sense for your business. Our team at General Data is here to provide you with knowledgeable, expert advice to help you make the right decision for your business. As we are premier partners with the industry's top technology providers, our experts can help you specify the mobile devices and corresponding software that fits your specific needs, application and budget. 
---
Interested in learning?
Or chat with us using the chat box below.