Switch to Android with the Mobile Computer That Gives You More
Finally, an easy way to migrate your business mobility solutions to the proven operating system that is taking the consumer world by storm - Android. This 4th generation in Zebra's highly successful MC3000 Series, the MC3300 gives you more of the features you want to meet your business needs: more models, more scanning options, more time-saving features, a more rugged design, plus instant support for your TE apps, right out of the box - no backend modification or user training on new or udpated applications required. And if you want to modernize your apps to take advantage of Android's touch interface, we've made that easy too - Zebra's AllTouch TE is pre-loaded, ready to turn your green screens into elegant touch-centric screens that will help your workers get even more done, in less time.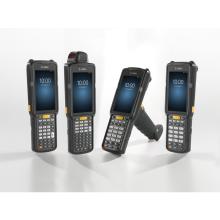 click image for larger view
Zebra MC3300 Mobile Computer — The Easy Way to Power Your Business
Create the perfect device for every job and every application.

With the ability to mix-and-match four form factors and three keypads, you get more possible model choices than any competitive device in this class. Form factors include gun-style for the most scan intensive jobs, turret for adjustable scanning angles and a straight shooter that scans at either 0° ior 45°. Keypads include numeric, fucntion numeric and alpha numeric. The result? You can give differnt types of works the easiest and most comfortable data capture possible.

Keyboard and touchscreen support for your TE apps, right out of the box.

The MC3300 supports your TE apps right out of the box. The built-in keyboard delivers the same experience your workers have today - no change in workflow, no training required. And when you're ready to migrate to touch-based input, the MC3300's touchscreen combines with Zebra's AllTouch TE to easily turn your green screens into the elegant touch-centric easy-to-use apps your workforce expects, boosting worker productivity to a whole new level.

More ways to capture more types of data with unmatched simplicity and speed.

You can choose a short, mid or long scanning range that enables the capture of barcodes on your uppermost racks as easily as barcodes in hand. The highest resolution camera in this clas captures detailed photos to document condition and more. And Zebar's SimulScan enables the capture of multiple barcodes on a label with one press of the scan button and more.

Reduce your upgrade costs- keep on using the MC3200 accessories you have today.

You get the best of both worlds with the MC3300. You can use most of the MC3200 accessories you already own, or you can use new advanced cradles that deliver fast charging in half the time.

Mobility DNA for an unmatched feature set - and value.

Zebra Mobility DAN apps provide powerful new features that no other competitive product can offer - features that simplify everything from data capture to device management. And with LifeGuard for Android, you can count on Zebra to provide 10 years of support - inluding security patches - allowing you to decide if and when you want to upgrade to a newer version of Android.