Just In Time Color Printing
The Epson TM-C3500 Color Inkjet Printer brings industrial, Just In Time color printing to GHS-compliant labeling. While maintaining a small footprint and exceptionally high print speeds, the C3500 printer meets stringent BS5609 certifications for chemical label print durability and can handle a wide array of label media, including roll-fed, fanfold, die cut and continuous.  With four high-quality, pigmented ink cartridges (CMYK) the TM C3500 is specifically engineered for efficient use of ink and is designed to be instantly dry-to-the-touch.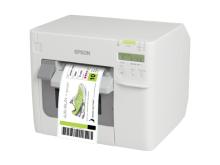 (click photo to enlarge)
Color Defines Your Business
Significantly Lower Costs

Dramatically reduce the cost of your label operations with the Epson C3500. Instead of maintaining an expensive inventory of preprinted labels, you can print the labels you need when you need them.

Superior Print and Ink Quality

Ensures labels with crisp, clear easy-to-read text and barcodes and vibrant graphics that resist smudges and water even on plain paper. You can print on a wide range of media from plain, synthetic and matte to glossy stock.

Advanced Features Only From Epson

With fast printing speeds up to 4 inches/second, this printer has a nozzle check system that produces a reliable output of high volume labels with excellent image quality. It offers multiple easy-to-use features such as an autocutter, easy paper loading and an LCD with printer status readouts.

Color Labels Are The New Trend

There is a growing demand for the use of color labels that features color codes, photos and pictograms to highlight relevant information. This trend sharply drives up the number of label variations and increases label production complexity. The Epson C3500's ability to product full color labels on demand makes this the ideal solution.
Use The Epson TM C3500 Color Inkjet Label Printer For
Product Specifications and Details