The Xerox Phaser 4622 is a black-and-white printer designed to meet productivity needs at a manageable price.  This laser printer provides the speed and flexibility to accomplish many tasks in less time, without relinquishing the print quality.  The Phaser 4622 allows you to maintain total print control among your entire network, giving you the ability to manage printer features remotely and proactively monitor the usage.  Xerox's Phaser 4622 offers iron-clad security features with built-in support for IPv6 and IPsec.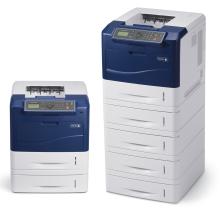 (click photo to enlarge)
Keep Your Workplace Fast and Flexible

In business, you can't miss a beat. The Phaser 4622 gives you the speed and fliexibility to keep you on task and in control. With lightning fast output, you can view your first document in as few as 7.8 seconds from the time you press start.

Provides Efficiency and Professional Results, Every Day

It provides a wide variety of print options, all with outstanding print quality and up to 1200 x 1200 enhanced image quality. Manage key printer features remotely right from your desktop using Xerox CentreWare Internet Services and CentreWare Web.

Keep Your Office Lean and Green

An affordable office printer, the Phaser 4622 works hard for your office while being just as mindful of the world outside of it. The hassle-free two-sided printing can easily cut your paper consumption in half.

Peace of Mind Knowing Your Data Is Safe

This printer offices industry-leading security features that can effectively reduce document security risks. Features include support for IPv6 and IPsec, Image Overwrite to remove unneeded data from printer storage, state-of-the-art hard disk encryption and Secure Print to hold private print jobs until they are released by the job originator.
Use The Xerox Phaser 4622 Laser Printer For
Product Specifications and Details