Outstanding Performance At An Understated Price
Zebra's industrial printers are well-known for their durability, fast print speed, long life span and unparalleled reliability. The budget-friendly ZT510 carries on that legacy by taking the 105SLPlus to a new level with expanded performance and value. The ZT510 provides proven, durable design and construction while adding advanced management and monitoring capabilities. That means you get 24/7 reliability to keep your operations running smoothly today, plus longevity and advanced functionality to power through every challenge in the years to come - all at an exceptional value.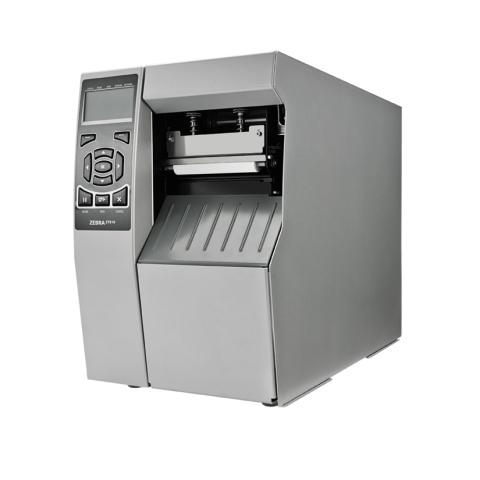 (click image for larger view)
24/7 Reliability to Eliminate Downtime
The ZT510 features Zebra's world-renowned, high quality print mechanisms and internal components to ensure 24/7 performance.
Unrivaled Durability in the Toughest Conditions
With an all-metal design, rugged construction and sealed dome buttons to prevent ingress of dust, dirt and moisture, the ZT510 is right at home in today's harshest manufacturing environments.
Value That Won't Break Your Budget
The ZT510 provies high duty cycle, rugged reliability, fast processing, advanced Link-OS capabilities and all the basic features you need - without the added cost of those you don't.
Variety of Connectivity Options for Flexible Configuration
Featuring a variety of standard communication options including USB, Serial, Gigabit Ethernet and Bluetooth LE, the ZT510 is easy to integrate into existing systesm and connect to various networks.
Adaptability to Meet Evolving Needs
The ZT510 is engineered to grow and change with your business needs in the future by simplifying hardware upgrades, integrating seamlessly with common device management software and streaming software updates with easy-to-use Link-OS applications.
Additional Capabilities That Improve Performance
From the fast processor that enables quick throughput of even complex graphics to the optoin USB Host card slot, the ZT510 optimizes performance at every turn. Easily transition between 203 and 300 dpi printing for precise media handling and quiet operation.
Use the Zebra ZT510 Industrial Printer for: